Share this post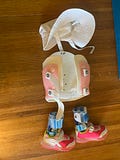 Okla. to study corporal punishment; Ala. sued over foster kids' education; N.C. punishes Black disabled students more; France adds to parental leave benefits
www.medicalmotherhood.com
Okla. to study corporal punishment; Ala. sued over foster kids' education; N.C. punishes Black disabled students more; France adds to parental leave benefits
News roundup for Sept. 24
Share this post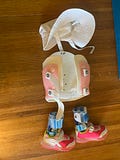 Okla. to study corporal punishment; Ala. sued over foster kids' education; N.C. punishes Black disabled students more; France adds to parental leave benefits
www.medicalmotherhood.com
Each week, we showcase a picture of real life from the Medical Motherhood community. If you'd like to participate, simply reply to this email. What are you seeing this week?
---
Medical Motherhood's news round up
Snippets of news and opinion from outlets around the world. Click the links for the full story.
• From The Oklahoman: "Oklahoma lawmakers to study corporal punishment for disabled students"
The two state lawmakers who tried unsuccessfully this year to ban the use of corporal punishment for public school students with disabilities will hold a joint study on the issue in October.

State Sen. Kay Floyd, a Democrat from Oklahoma City, and Rep. John Talley, a Republican from Stillwater, said their study would focus on the use and effects of corporal punishment on public school students with disabilities.

Corporal punishment usually is defined as a physical punishment designed to inflict pain on an individual.

During the 2023 legislative session, Floyd and Talley co-authored House Bill 1028, which would have prohibited the use of corporal punishment on students identified with significant cognitive disabilities. The measure passed the House 84-8 in March but stalled a month later in the Senate.

Floyd said some lawmakers had misconceptions about the bill. She said there was a concern the corporal punishment ban would apply to all public school students.

[…]Oklahoma is one of only 19 states that still allows the use of corporal punishment. At present, more than 60 state school districts still allow corporal punishment with parental consent.

Nationwide, roughly 90% of the country's schools no longer use corporal punishment. Of the schools that do, most are located in Southern states, reports show.[…]
• From the Montgomery Advertiser: "Federal lawsuits allege 'systemic discrimination' of disabled kids in Alabama facilities"
Six federal lawsuits were filed Wednesday against Alabama Department of Human Resources Commissioner Nancy Buckner and State Superintendent Eric Mackey for their agencies' roles in committing alleged "flagrant violations of the Americans with Disabilities Act."

Each lawsuit was filed on behalf of a former resident of a state-contracted, residential youth facility in Alabama either by a guardian or, in one case, the former resident himself. 

They all allege similar situations where a child with a disability was segregated from nondisabled children and not provided an equal quality of education.

"We have filed these lawsuits not only for our clients but for every child in the state who has been robbed of the education they deserve," Florida attorney Caleb Cunningham said.

[…] After years of abuse allegations coming out against state-contracted mental health facilities in Alabama, the [U.S. Department of Justice] definitively found that Alabama discriminates against foster care children who have emotional and behavioral disabilities by denying them equal opportunity to basic education. 

Cavanaugh's lawsuit and the others filed on behalf of minors utilize the DOJ report as support for their claims. 

[…]All six lawsuits are requesting that a judge finds that the defendants violated federal law and award compensatory damages, statutory damages, attorneys' fees and costs. […]
• From WCNC (Charlotte, North Carolina): "'It's devastating': Gaston County mother says discriminatory discipline stands in the way of daughter's education"
GASTON COUNTY, N.C. — In a state where public schools rely heavily on suspending and expelling the most vulnerable children, Black students with disabilities miss out on more classroom learning than their peers, records show.

A WCNC Charlotte investigation previously found North Carolina suspends and expels students with disabilities at length more than every other state in the country, per capita. The data shows most of those kids are Black.

[…]"It's devastating. It's traumatizing. It's embarrassing. It's deflating," [mom Sharlene] Smith said of the challenges her 12-year-old daughter Sydney, diagnosed with autism and ADHD, has faced. "It's a very demeaning feeling."

[…]Records show Sydney faced 14 days of out-of-school suspension last school year. A required review concluded Sydney's disability caused her aggressive behavior. The school district, with support from Sydney's doctor, eventually sent her home for the rest of the year.

[…]Sydney's experience is representative of a larger problem. Kids with disabilities who look like her are disproportionately disciplined.

[…]The National Education Association has also made this a priority, noting years of systemic racism and unconscious bias. President Becky Pringle said the group is pushing for policies focused on restorative practices that, instead of penalizing students, aim to address the root cause of their misbehavior.

[…]"I'm literally every single solitary day in a fight for her life," Smith said. "When she does this, even at 15 and she does this at Carowinds [Amusement Park], you're going to lock her up. That's what happens to our kids."[…]
• From Mondaq (France): "France: Paid Bereavement Leave Extended, Among Other Changes"
[A] New law in France strengthens job-protected parental leave and expands paid leave to care for a child with a serious health condition or for bereavement purposes.

[…]If a child is diagnosed with a chronic disease or becomes disabled, parents are entitled to five workdays of employer-paid leave (previously two workdays) when the diagnosis or determination of disability occurs.

[…]On request, parents of sick or disabled dependent children are entitled to request to work remotely. Employers may only refuse such requests (in writing) based on objective business reasons.

[…]In the event individuals are entitled to state-paid family allowances in relation to caring for a sick or disabled child (l'allocation journalière de présence parentale), the allowances may now be payable before the state medical assessment is finalized.[…]
---
Medical Motherhood brings you quality news and information each Sunday for raising disabled and neurodivergent children. Get it delivered to your inbox each week or give a gift subscription. Subscriptions are free, with optional tiers of support. Thank you to our paid subscribers!
Follow Medical Motherhood on Facebook, Twitter, TikTok, Instagram or Pinterest. The podcast is also available in your feeds on Spotify and Apple Podcasts. Visit the Medical Motherhood merchandise store.