Share this post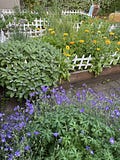 Growing resilience — lessons from a medical mama's garden
www.medicalmotherhood.com
Growing resilience — lessons from a medical mama's garden
A discovery of how embracing differences and breaking the rules can lead to unexpected growth and beauty
Early on, I would try to start seeds and, eventually, they died. 
I would put them in neat little rows, give them fertilizer and water them. I would do everything by the book, everything I am supposed to do. But for some reason, I was rarely successful. My corn never grew past my knee, my basil yellowed and wilted, my lettuce seedlings rotted. 
My son, on the other hand…. Jasper* finds old seed packets and sprinkles them in patches, not rows. He doesn't pay attention to the weather. He forgets to water for weeks. He puts tomato cages around peas and leaves tomatoes to sprawl out. He grabs a bulb of garlic from the kitchen and shoves it in the ground. 
He makes up his own rules, he doesn't do what he's supposed to do. 
And for some reason, his garden grows.
Jasper's garden is beautiful and lush and thriving. There is a corn stalk growing strong and tall out of the strawberries. There is so much parsley, we have to cut it back to make sure the peas — which like tomato cages much better than the stakes that I would have tried to train them up — have enough sunlight. The spinach, calendula and cherry tomatoes are doing great, even though we didn't plant any this year. Last year's ignored plants went to seed and just did what plants have done since plants began.
They had no reason not to in our garden. 
For some reason, I often think about disability in the vegetable garden. Humans often have incredibly detailed judgements of the physical differences of other humans. We can even judge animals with physical differences. But there can be quite a lot of variation in individual plants before we start making judgments about them. Who cares if it's missing a leaf or two? Who cares if one is shorter than the other? Who cares if it takes a fraction longer to grow? 
Along the West Coast, where I live, many trees stretch eastward, away from the ocean, looking as though they were bent by the wind. These trees would grow fairly symmetrically anywhere else, but the harsh ocean wind kills the new buds that try to grow on the windward side. No one calls the result crippled. Or defective. Or disabled. 
We call it beautiful. We put it on postcards. 
Those trees remind me of the miracle of life. How even in the harshest circumstances, even when irreparably damaged by the world, even when planted where nothing should be able to grow, life not only survives but thrives. 
My children survived and thrived under extremely harsh circumstances. And where others might see brokenness and judge them less-than or "other," I see beauty and strength and resilience. 
A version of this story ran on June 27, 2021. View the full archive by becoming
a paid subscriber
.
*Not his real name
---
Medical Motherhood's news round up
Snippets of news and opinion from outlets around the world. Click the links for the full story.
• From Montgomery Advertiser (Alabama): "Sen. Tommy Tuberville, Paris Hilton back legislation to prevent abuse in youth facilities"
Just over a year ago, on April 11, 2022, 15-year-old Connor Bennett died after attempting to take his own life inside of a residential youth treatment facility in Tuskegee. For five months leading up to that day, Bennett allegedly endured physical, sexual and verbal abuse. 

His mother said when he asked the staff who were supposed to be supporting for help, they ignored him. 

[…]The allegations [of abuse in facilities like these] extend beyond Alabama, and this week, U.S. Sen. Tommy Tuberville of Alabama was among the five congressmen who introduced a bill to address oversight of these kinds of facilities. 

"States are doing the best they can do to regulate, but we need to do more at the national level," Tuberville said at a news conference. "There's an old saying that sunlight is the best disinfectant. We need to open our eyes and put the sun on what's going on in this country with these facilities. We need some more sunlight on these facilities so we can put a stop to the waste, fraud, and abuse in the system."

The Stop Institutional Child Abuse Act proposes greater transparency from these facilities that are privately owned and government-contracted. The bill would establish a federal work group to provide oversight of these facilities, and it would direct the National Academies of Sciences, Engineering and Medicine to study the use of behavioral intervention methods like restraints and seclusion on children in the facilities. 

U.S. Rep. Ro Khanna (D-California), Sen. Jeff Merkley (D-Oregon), Sen. John Cornyn (R-Texas) and Rep. Buddy Carter (R-Georgia) teamed up on the legislation. [Celebrity Paris Hilton, who says she herself experienced abuse at such a facility, has also been championing this cause.]

[…]"Every day in America, children in residential facilities are being physically, emotionally and sexually abused by those responsible for their care. I'm never going to get my childhood back, but some of these children are losing their futures, too," Hilton said at the news press conference. "How many more children need to die before you take action?"[…]
• From The Providence Journal (Rhode Island): "Bill would end out-of-school suspensions for young children unless they pose a threat"
[State] senate lawmakers are weighing a bill to limit out-of-school suspensions for young children, following criticism of the practice from the American Civil Liberties Union of Rhode Island.

On Wednesday night, the Senate Education Committee heard the proposal, sponsored by Sen. Ana Quezada, D-Providence, with a total of 10 senators signing on. It would stop out-of-school suspensions for students in preschool through fifth grade, unless the student is a danger to others.

Specifically, the legislation states that a suspension may only take place if "the school administration, in consultation with a school psychologist or other mental health professional, determines that such student's behavior presents a threat to the physical safety or health of others which cannot be reduced or eliminated through interventions and supports."

[…]However, the Rhode Island Federation of Teachers and Health Professionals does not support the bill.

James Parisi, a field representative for the union, said that although he wants alternatives to suspensions, "teachers deal with the consequences of not imposing some kind of behavior standards in the classroom."

"And while I understand the ACLU focusing on […] the lost instructional hours … I'd ask you to consider […] the learning needs of the 25 others who remain, whose classroom has been disrupted, if that in fact was the case ...," he added.

The bill has been held for further study.
• From The Washington Post: "She didn't have a Barbie with Down syndrome growing up. So she made one."
[…]On Tuesday, Mattel and the [National Down Syndrome] society unveiled the most recent edition to the Barbie Fashionistas collection, a line designed to be more inclusive. Advocates hope the new doll allows children with Down syndrome to see themselves represented in popular culture — by one of the most iconic toy brands in the world, no less.

"It's a huge step for representation," Kandi Pickard, the National Down Syndrome Society's CEO, said.

[…]Over the [past] year, [grassroots advocacy manager Kayla] McKeon helped advise Mattel. Compared with other Barbie dolls, the one introduced Tuesday is shorter and has a longer torso, which is characteristic of people who have Down syndrome, the society said in a news release. The doll has other distinctive features, including a rounder face, smaller ears, a flat nasal bridge and eyes that are slightly slanted and almond-shaped. They also gave the doll a single line on her palm, another trait often associated with Down syndrome.

A medical professional reviewed the doll's physical features to make sure they were correct, the society said.

The new Barbie also wears orthotics, medical devices some children with Down syndrome use to support their feet and ankles. To ensure accuracy, the society provided Mattel with a box of orthotics as models.

The doll also sports a dress in shades of yellow and blue, the colors used to raise awareness of Down syndrome. She wears a Barbie-pink necklace with a pendant of "the Lucky Few" symbol— three upward chevrons representing three copies of the 21st chromosome.

McKeon said she's happy with the way the Barbie turned out. As a child, she didn't get to play with any dolls or toys that reflected a world in which people with Down syndrome exist. But she helped create one that does.

"I'm so proud and so excited," she said, "that there's a doll out there that looks just like me."
---
Medical Motherhood brings you quality news and information each Sunday for raising disabled and neurodivergent children. Get it delivered to your inbox each week or give a gift subscription. Subscriptions are free, with optional tiers of support. Thank you to our paid subscribers!
Follow Medical Motherhood on Facebook, Twitter, TikTok, Instagram or Pinterest. The podcast is also available in your feeds on Spotify and Apple Podcasts. Visit the Medical Motherhood merchandise store.
Do you have a story to share or an injustice that needs investigation? Tell me about it and it may become a future issue.